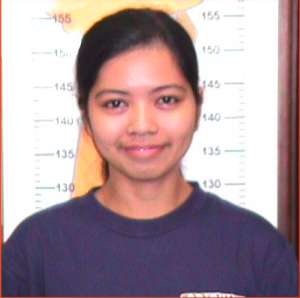 Ms Maryann Valdez is 28 yrs. of age and single. She is 7th of 10 in the family. She has a Bachelor in Animal Science and speaks and understands English well. Her hometown Bagabag in the province of Nueva Vizcaya is 8 hours from Manila, the capital.
Her first job as a caregiver was in the Philippines where took care of was a man 80 years old. Maryann took care of him from April 1995 and left when the old many died in September 1995.
She then applied for a position in Singapore and in April 1996 was offered a position by one Mdm Leow S.F. She worked for this family for 4 years. Her employer was a working mother and Maryann was left in charge when she was out. The two children in her care 2 and 7 years of age. Other duties she performed were cooking, general cleaning, laundry and ironing. She also washed her employer's care and did the marketing (grocery shopping) for her employer.
At present she is working for one Mdm Judy Foo who has two children who are now 4 years and 10 months old respectively. The baby was born after Maryann started work for the family. Other duties are cooking, cleaning, laundry and ironing.
In the Philippines she had also worked for Provincial Veterinary Clinic run by the local government. From the clinic as base Maryann and others form a team visiting the farms and offer advice to the farmers. One of her duties was to innoculate animals.
Maryann is pleasant, soft-spoken and gentle. She speaks and understand English well. She has good child care experience, including caring for a newborn baby.