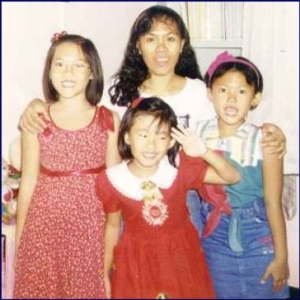 Ms Maria Concepcion Ilasin is 29 yrs. of age and single. She is from Bukidnon, about 3 days by sea to Manila. She 3rd of 4 in the family. Her father grows rice and sugar-cane on his farm.
Maria Concepcion has completed High School (10 years) and a 2-year Ranger's Certificate course. She speaks and understands English quite well.
Maria Concepcion has over 5 years' experience, working for the same employer. She began working for him in January 1996 and will have completed 6 years by January 2002, when she hopes to be working in Canada.
She took care of her employer's children aged 8 and 10 when she began working for the family. Her other duties are cleaning and tidying, laundry and ironing, care of one pet dog. As the lady of the house Mrs Teo is a housewife, she does the cooking most of the time and Maria Concepcion helps her in the kitchen. In the course of helping out in the kitchen, Maria Concepcion has learnt a little about cooking. Now she cooks for the family when her employer lets her.
Mrs Teo thinks highly of Maria Concepcion and when asked rates her a perfect 10 for 10 character traits - diligence, initiative, honesty, patience, thoroughness, fondness for children, intelligence, neatness, reliability and proficiency in English.
Perhaps this is a reflection of the fact that Maria Concepcion has been working for her for almost 6 years, which in itself speaks highly of Maria Concepcion, that she is loyal and dependable.
Maria Concepcion is friendly but not flamboyant; rather quiet, gentle and unassuming. She is quietly confident. She would be ideal for someone who does not want to have to look for a new live-in nanny every year or two.
Maria Concepcion has also worked for 8 months in Brunei. Although her nominal employer spoke English, his wife did not and the problem in communication became an irritant. So at the end of eight months both parties called it quits. But the eight months was not a total waste, for it prepared Maria Concepcion for her next job, in Singapore, referred to above.