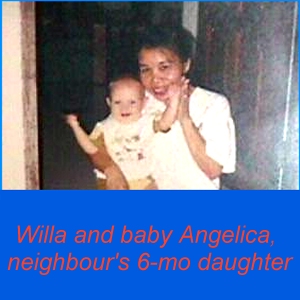 Ms Willa Ravina is 36 yrs. of age. She is single, 3rd among 6 children. She has a Bachelor of Elementary Education and speaks and understands English well. Her hometown in the province of Negros Occ is 18 hours from Manila, the capital. She has worked for the same employer in Singapore for 8 years, from Jun 1993 until now (Jul 2001). Her duties are cooking, general cleaning and tidy, laundry and ironing and, during first few years, care of a child. The child was 10 years old when she first started working for the family.
Before she came to Singapore, she had worked for on Eleanor L. Genis in her hometown, from Jun 1982 when she began high school until Mar 91. Eleanors father passed away in 1987 and later the mother passed away four years later in Mar 91. Only then did she leave the family.
She began working for Eleanor when she was 12, when she went to High School. When she went to live with and look after Eleanor's parents, they were ambulatory, but was nevertheless going on in years. In exchange for performing chores, attending to the needs of the old folks, Eleanor paid for her education.
Over the years (the last 8) Willa has been cooking for her Singapore employer. She has reached the stage where she does not hesitate to say that she is a good cook. Her training as a teacher will come in useful when she works as a Live-in Caregiver in Canada
Willa is a loyal employee as her job history would suggest: 8 years or more for each employer.
She is good as Caregiver to the elder or sick, but she loves children too and she would really love to be a nanny or childminder. If she is hired whether as a childminder or a careful to the aged and infirm she will also perform household duties like cooking, geral cleaning and laundry and ironing.