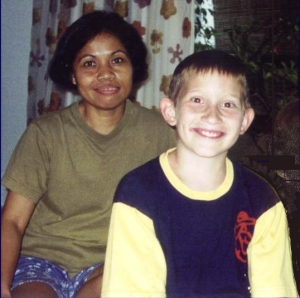 Ms Juanita Salvacion is 37 yrs. of age and single. She has a Bachelor of Art, majoring in English and speaks and understands English well. She comes from the central Philippine province of Iloilo, a day's journey from Manila by sea.
She first came to Singapore in September 1991 and went home a little over 4 years later, in January 1996. She intended to go home and start life anew in the Philippines, but after a year and a half at home she decided that she was still better off in Singapore as a domestic help, for in spite of her education she could not find a job that pays sufficiently well. So she returned to work again in Singapore in November 1997, for one Stephany Jane Keel, an American expatriate now back in the States (since December 1998).
During this period Juanita (Nov 97 - Dec 98) Juanita learnt a lot from what she considered was a perfectionist. Mrs Keel was diabetic and she was also a dietitian. Juanita benefit much from her, even though Mrs Keel was very strict and demanded a high standard from her.
So when Mrs Keel went home, she was snapped up by one Martin Anthony Reinke, an Aussie expat. Mr Reinke was quite impressed by Juanita, but his attempt to bring her to London with her was unsuccessful. The Reinkes had one child, a girl 2&frac12 years old when Juanita went to work for them.
She next worked for Douglas Hornell-Scott from Jul 99 until Jun 00. There was only child in the family. Mrs Hornell-Scott was principal caregiver but as she had a fairly active social life Juanita often had to do the babysitting. The child was 3&frac12 years old at the time she left. Mr Hornell-Scott who was previously in Hong Kong where he had a maid for 4 long years decided to help her work abroad again and that was when Juanita transferred to her current position.
Her current employer is one Susanne Lindell, for whom she began working a year ago, in June 2000. This interviewer has spoken with Mrs Lindell who obviously thinks highly of Juanita. In her written evaluation of Juanita, she scores her very high in
| | |
| --- | --- |
| Trait | Score |
| Diligence | 10/10 |
| Honesty | 10/10 |
| Patience | 10/10 |
| Fondness for Children | 10/10 |
| Intelligence | 10/10 |
| Neatness | 10/10 |
| Reliability | 10/10 |
Mr Lindell who is an executive with Ikea, the Swedish Furniture Superstore in Singapore, is due to go home in June 2002, coinciding with the expiration of Juanita's contract. However, he is prepared to release her as early as 1st May, 2002 if Juanita is ready to travel to Canada then to take up an offer.
Observations:
Juanita's answers are consistent and her memory is good, for when I had to ask her again for her work experience, she never contradicted herself. Her spoken English is good. (She has a BA with a major in English - including English Literature, American Literature and World Literature).
Juanita is very patient! She is prompt and quite thorough, for she comes with all the documents a job applicants is assummed to have - 2 job references, transcript of record, etc.
I have no doubt that she will be successful in a position that calls for intelligence, diligence, patience, honesty and reliability.
Miss Juanita Salvacion has a total of 7 years' experience as a live-in domestic worker.